Hello everyone! So I went out with one of my best friends - caibei yesterday! Did pretty thick makeup w lashes and contacts - so not me now - because I know she's going to take pictures of me! :D :D
Yeh to Ang siang hill. What a weird place to go right!! well, turns out that this is a really nice place! At least we enjoyed it a lot - food and photos.
A very short stretch of road here..
And Caibei did some photoshoots for me! Of course~ She has a Nikon D700, gt to utilize right! And obviously her charger didn't spoil like mine. DAM! I forgot to buy a charger!!!
Pretty~ Ok this is totally self obsession. I'm talking about the photo! Hahaha!
But anyway, I went BRIGHT with my OOTD! As well as the makeup. I''m actually a very boring person nowadays. I'd just wear neutrals, black and white, bodycon dress - call it a day. I won't even wear necklace, put lashes, put contacts, wear earrings. Given a choice I just want to go out in my pajamas, specs - so I won't be a blind ghost - and slipper. But got to look pretty right! Yes :D
I've been wearing my hair in a side pony pretty often these days. :) There IS a special reason for it! Girls with long hair would normally just tie a back pony when we're hot right. So that was what I always do. Till my bf says, 'I hate girls with back pony! The tail just swing left and right and left again dam I got headache. Feel like cutting it off......'
Yeh so I better tie it side ways so he don't get tempted to cut it away. :D
Went to a really really cute cafe later! Kki cafe. They've got the best tasting cakes -and ex- and shop design ever!
Counter
And this is infront of our table. Hahaha soooo cuteeee! I want to get everything here home!!!
THE CAKE!!!! this is super tiny - like seriously. But it taste so good! Caibei looked sooo high and happy when this lil cake reaches us! :D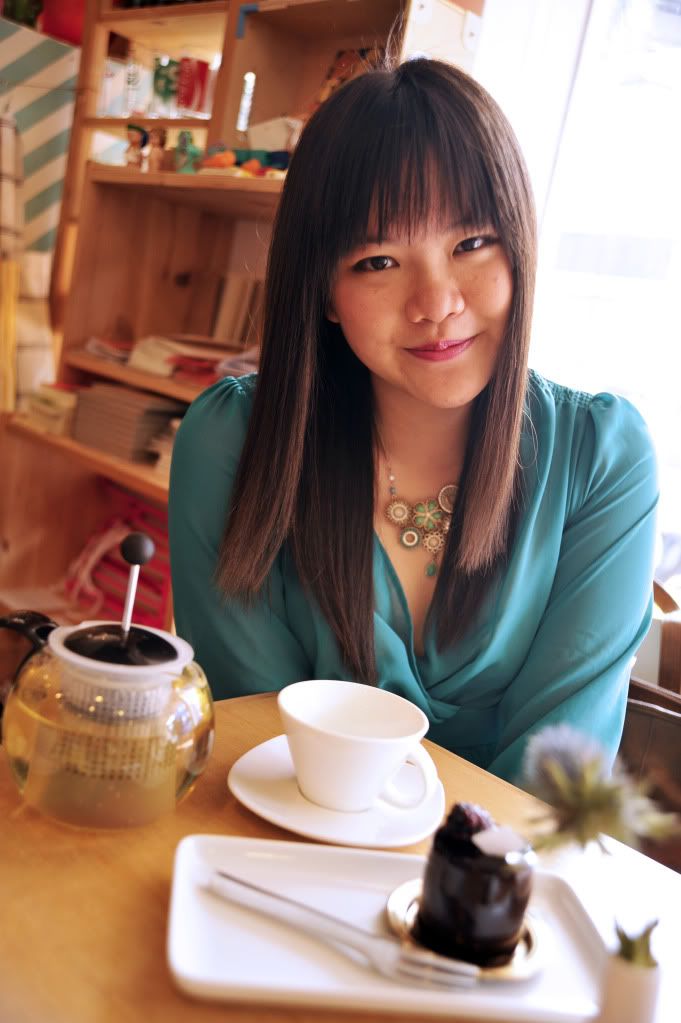 Greedy... Ready to eat the cake~~~ Btw yes I took the photo. Omg caibei almost killed me when I was trying to take her photos because I just know nothing about it! Its not my fault alright~ The only thing I use my DSLR for is to take photo of my face! Hahaha and my boyfriend is the one taking all other shots of me or scenery etc.
Ready to kiss the cakessssss. Ok another complain - her DSLR is so.heavy. around 2kg! Respect for photographers! My makeup and hair kit weights around 5kg too, but at least I don't have to keep 2kg in my hands all the time! Hahaha
What I'm wearing..
Top: f21
Bottom: Mango - LOVE IT.
Bag: idk where I got it from.
See my left eyes.. (Right side in the photo)
I kept rubbing it because some dirt went in. Luckily my false lashes didn't drop out fully. Tsk.
Only realise that I cut my eyes when I got home. Hurts like a bitch. Almost make a second trip to TTSH! I'm also suspecting its the color contact lens. But i got it from specs store so shouldn't be much of a problem? Hmm..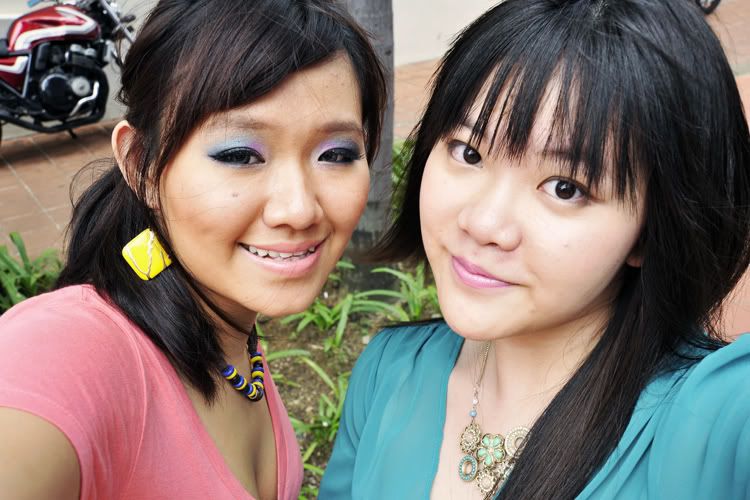 Ending the post w my caibei and I! :)
XOXO